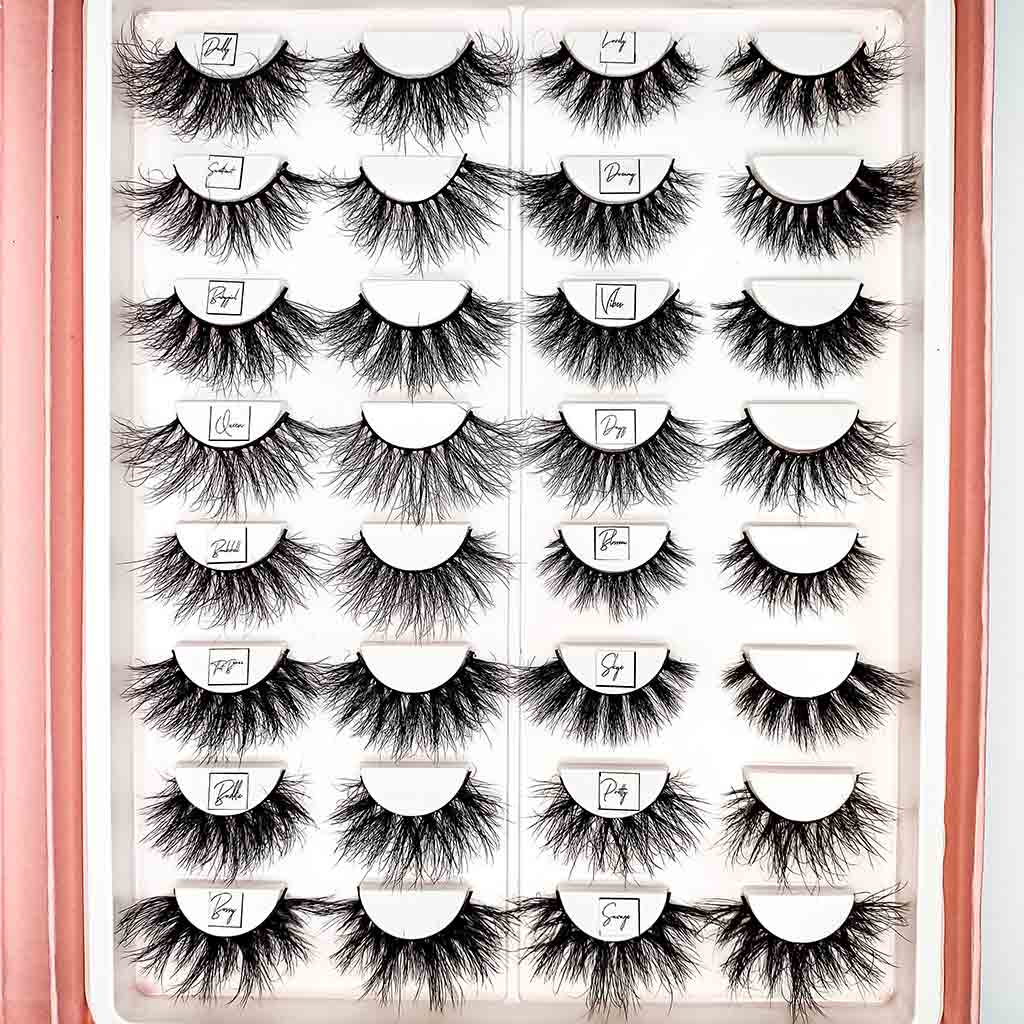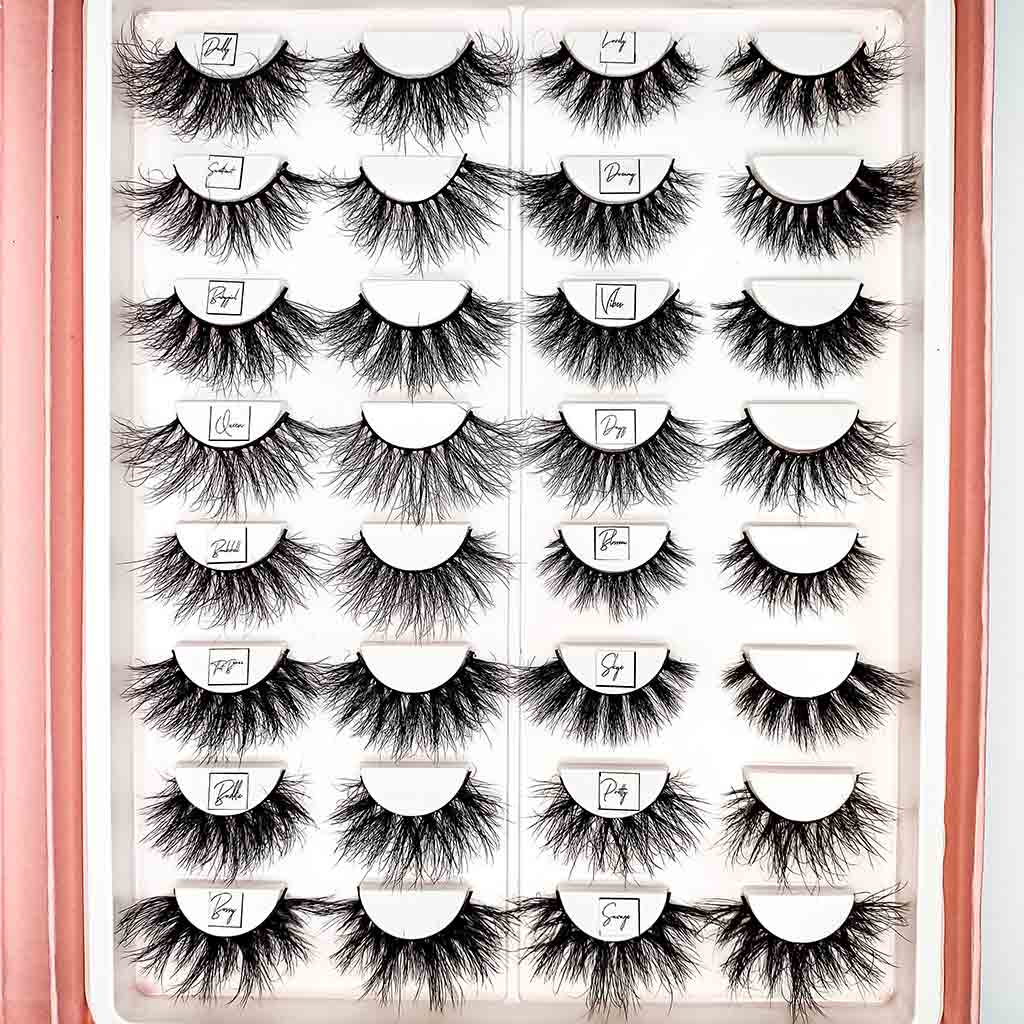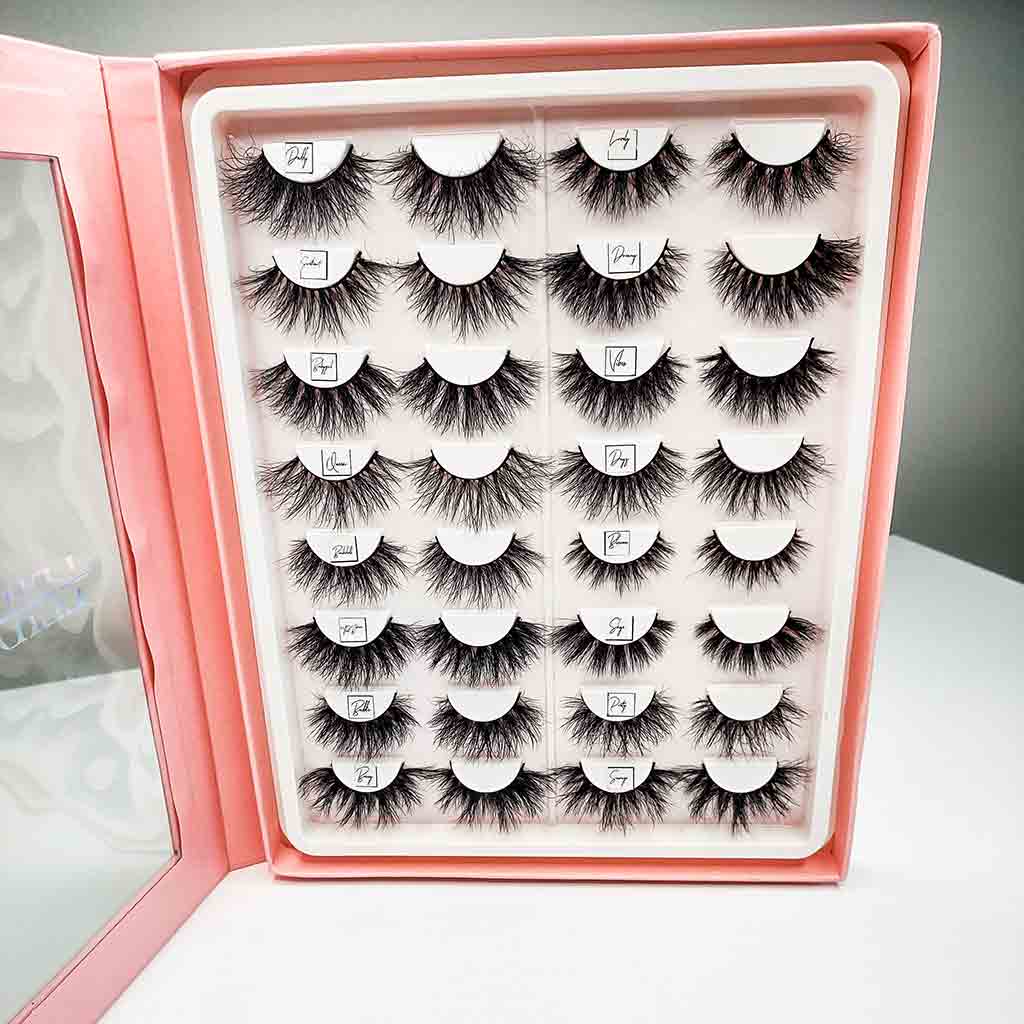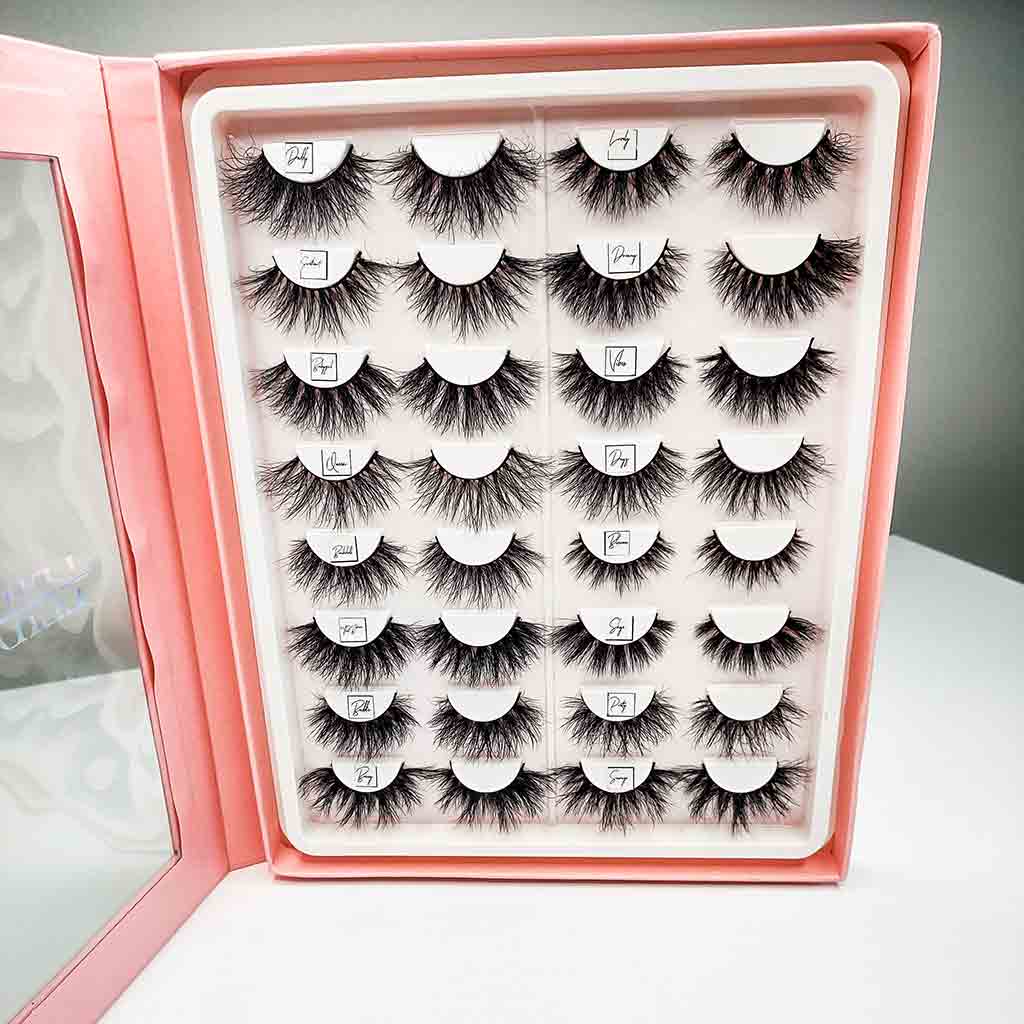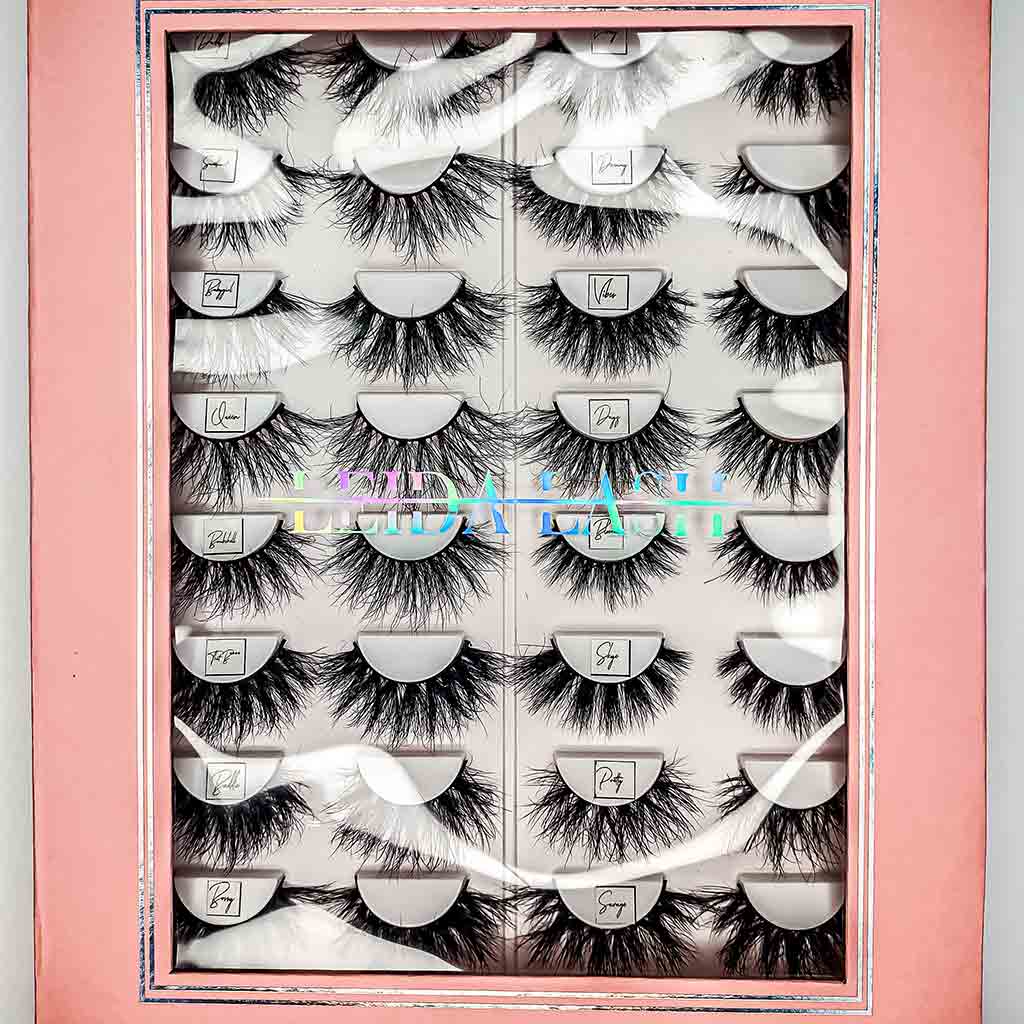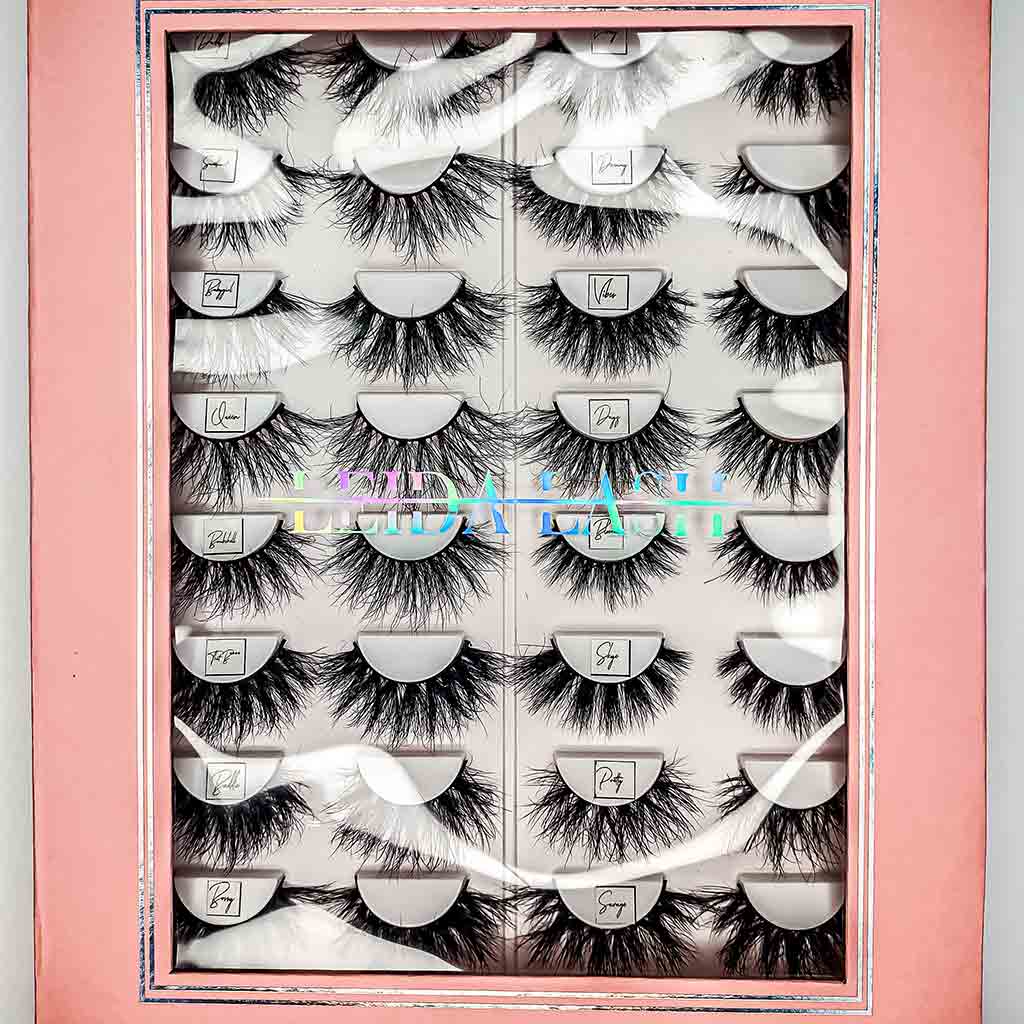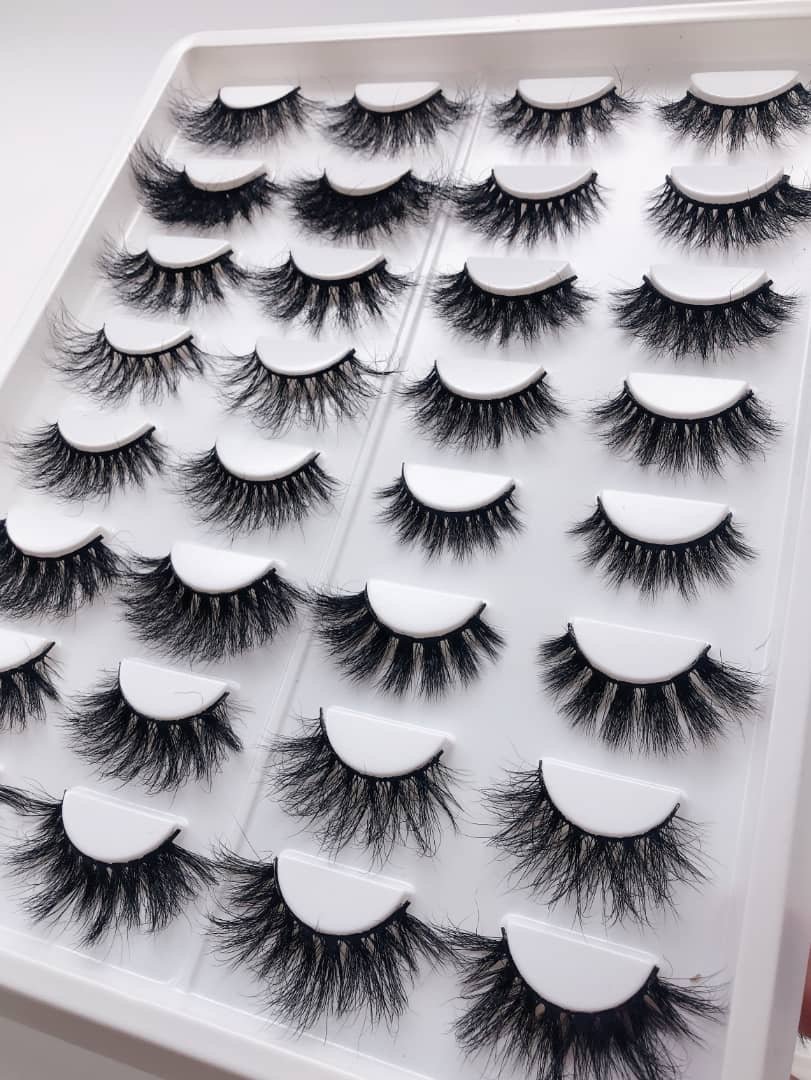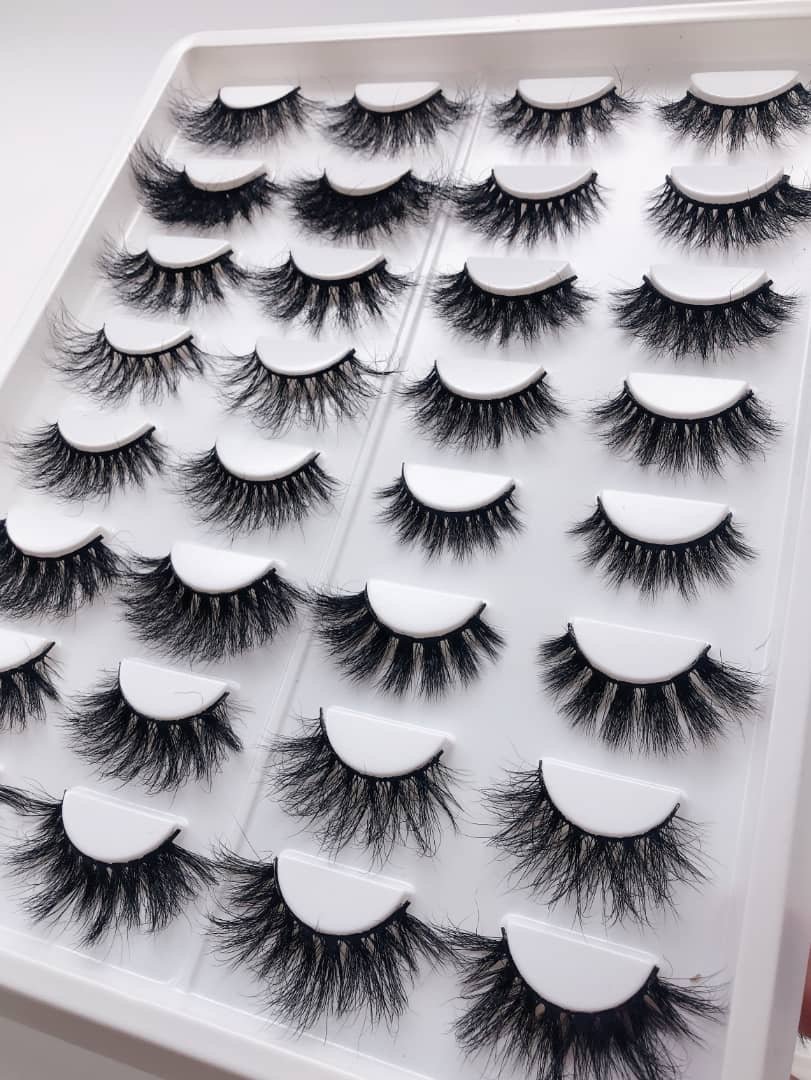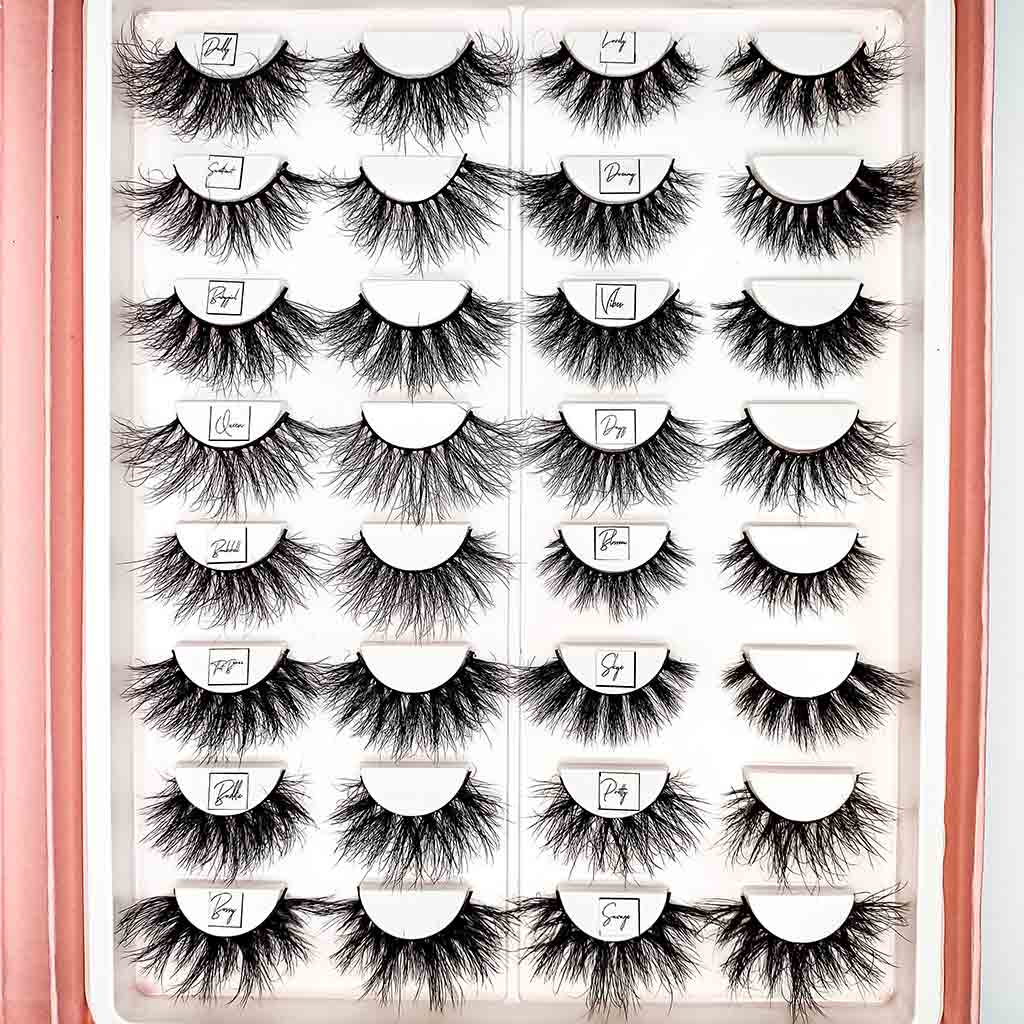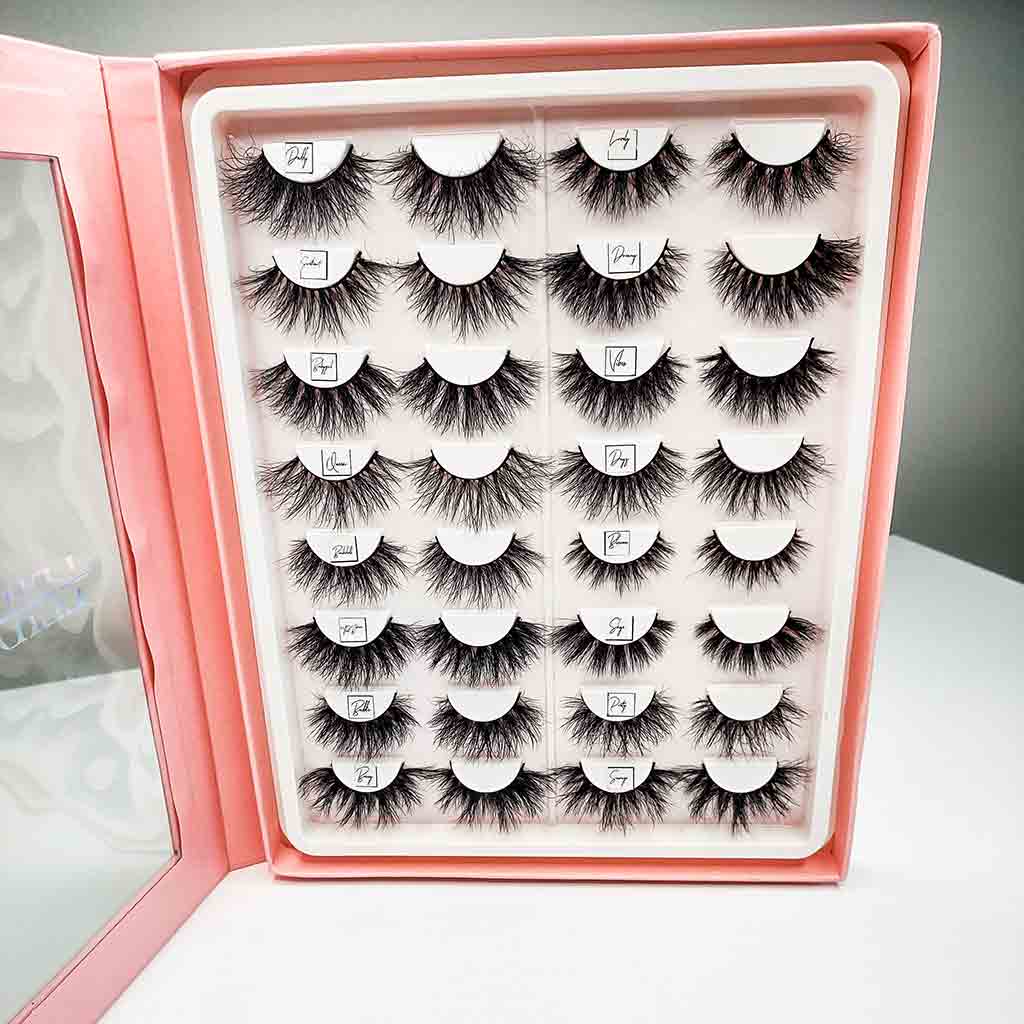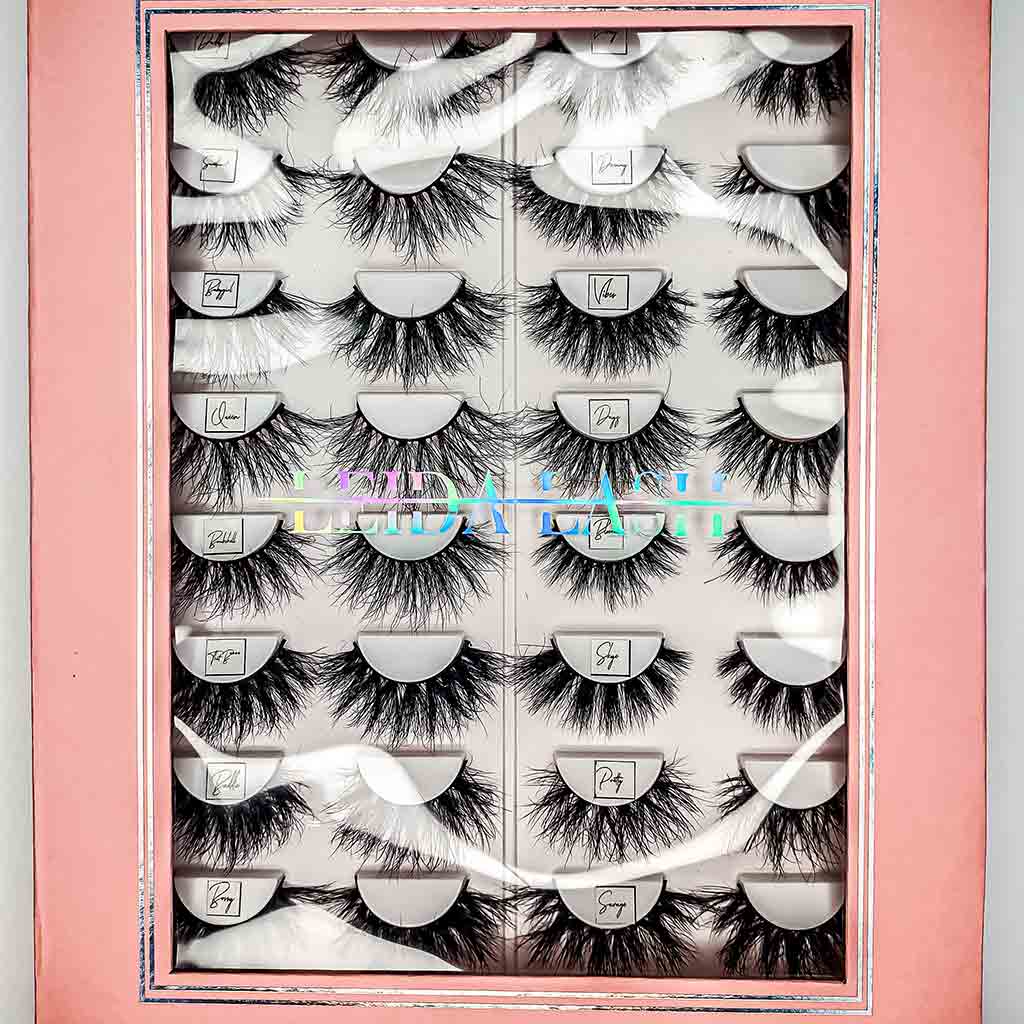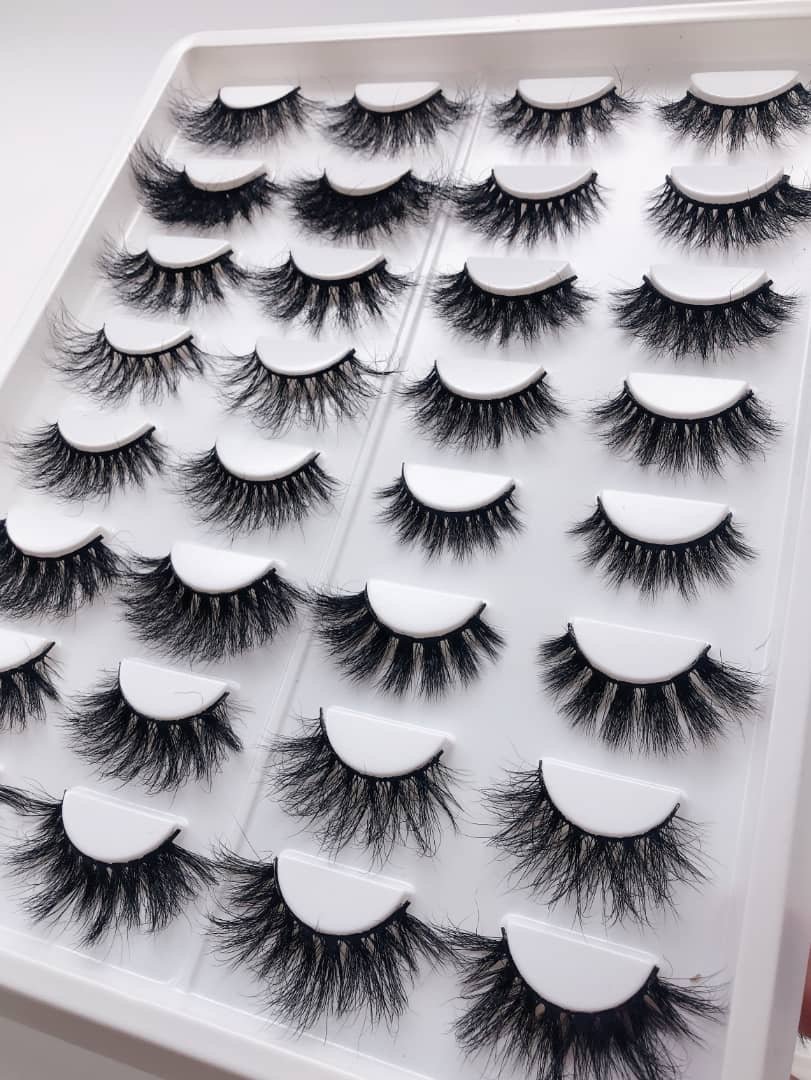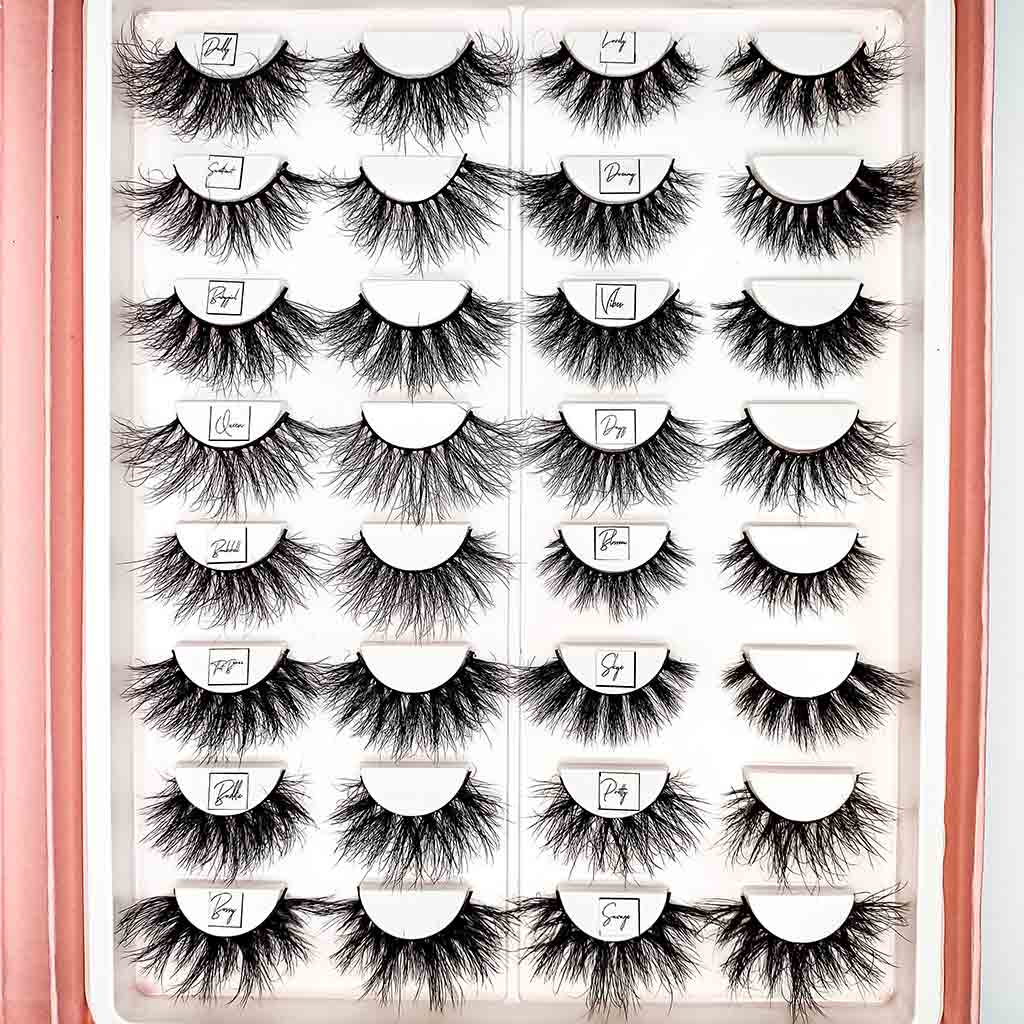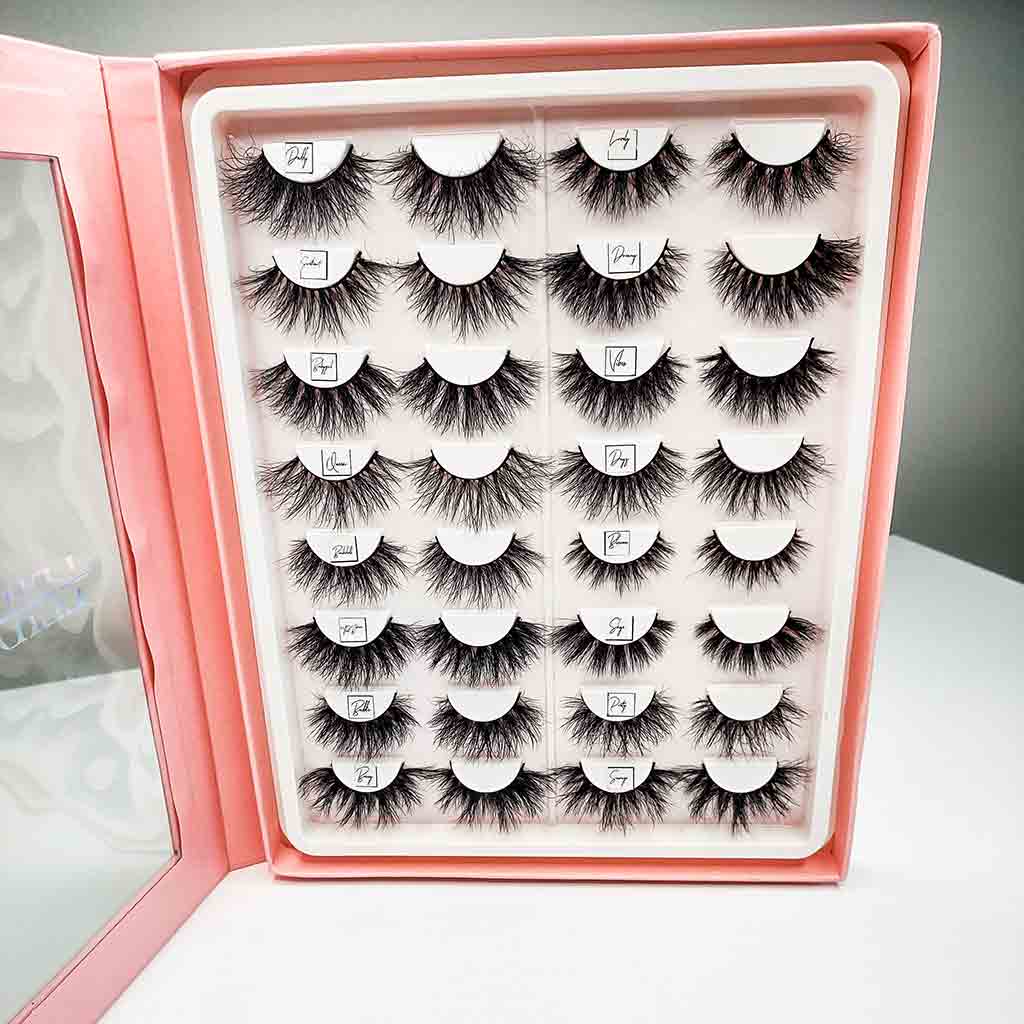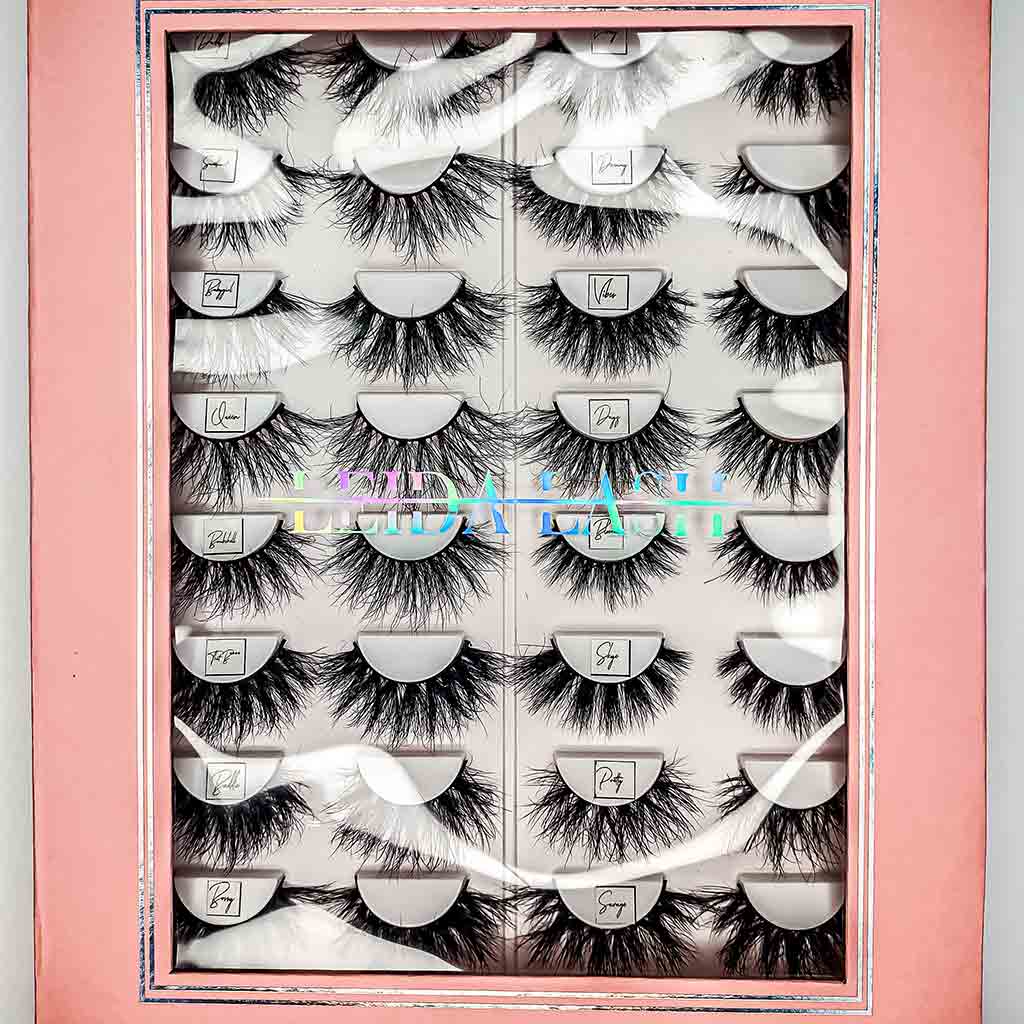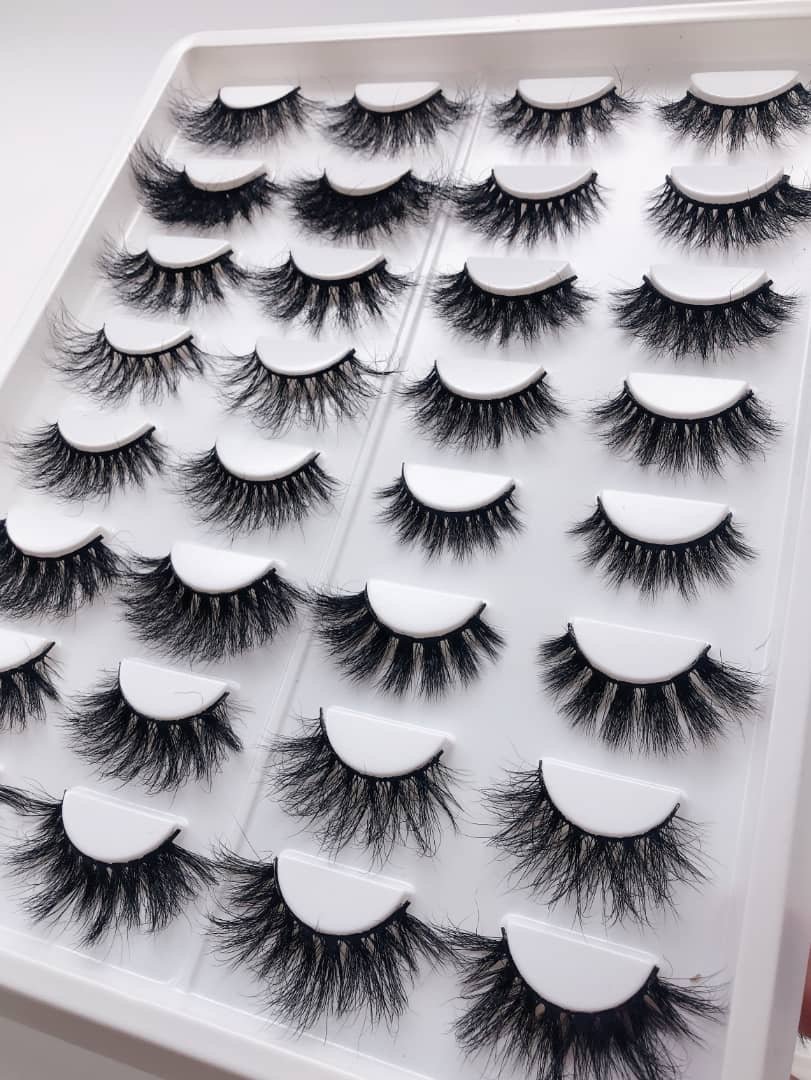 16 Pair 25mm 3D Mink Lash Book
400 Total Wears! This lash box is a mixture of 18mm, 22mm, 25mm lashes. It gives a variety of options for dramatic looks or more settled/chill day looks.
Lashes:
Baddie, Dayz, Savage, Vibes, Bombshell, Skye, That B****, Queen, Daddy, Sweetheart, Babygirl, Dreamy, Pretty, Bossy, Lovely, Blossom
Leida Lash Box 16 lashes Mink 3D 
Included in this mink lash book is a mixture of sizes, from 18 mm to 25 mm. You can select from over a dozen styles as well. Whether you are a dedicated false lash wearer or a novice, you are sure to fall in love with at least a few of the products offered by Leida Lash. 
Drama Queen Lash Book 
You can find single drag queen lashes here. 
Wanna be a drama queen? Our 3D Mink 16 piece Lash book speaks to your inner diva. Each lash is crafted from premium grade real mink fur and features a full set of feathery lashes, plus various lengths and curls. This lash book includes a varying range of styles, from natural-looking to show-stopping dramatic looks.
This 2mm lash box is perfect for any lash lover. We are so confident that you will love these lashes that if you don't you can return them and get a full refund.  
These are exclusive styles that you can only get here at Leida Lash.  The lash band is made with cotton and makes it super easy to get close to your lash line. Having a snug fit that works all day. 
25mm lashes books can be expensive and we compare ours to what luxury lashes would cost. Making this the greatest lash box on the market. Giving you 16 pairs in the lash book you'll get over 400 wears. 
What is Included in Leida's Mink Lash Book?
 These are whats indies our 16 pair lash book
Baddie- Made for a night on the town, the Baddie features a dramatic v-shape that ranges from 6 mm to 25 mm. Never heavy, the Baddie creates drama while keeping that wispy look that you want. No spidery lashes when you use Leida Lash's Baddie. 
Savage- Feeling daring? Pick up the Savage. Longer length along the edges creates a standout eye that works best with bold eye makeup, such as a cat-eye. When you are looking for a strong eye look, Savage is the way to go. 
Vibes- Want a thick, lush look? Go with Vibes. These are layered in a crisscross pattern, creating overlapping Ws. Wispy to avoid the spider look but long and luxurious, Vibes can be reused up to 25 times as long as treated gently. 
Bombshell- The bombshell is a good eyelash to choose for the day or a more subtle night out. Double stacked and wispy, that draw attention to your eyes without overwhelming them. 
Skye- Looking for a daytime casual look? Skye provides a cat-eye effect that allows you to go easy on the eye makeup. At 22 mm, they are not long enough to be distracting and are a great choice for new users. 
That B****- Extra full, extra fluffy, and extra drama is what you get with That B****. These are best for those who are comfortable being the center of attention because no one will be able to take their eyes off you when you show up looking amazing.
Queen- Light and fluffy, Queen put in the drama lashes are great for framing the face. Not overwhelming and easily reused up to 30 times with proper care, Queen is great for everyday wear. 
Sweetheart- Another great choice for everyday use, Sweetheart gives you length without heaviness. Sweatheart may quickly become your favorite choice in this mink lash book. 
Daddy- Daddy gives you the advantages of double-stacked lashes while still providing a wispy look. Comfortable and fluffy, these may become your favorite for daily wear. 
Dreamy- Dramatic enough for the night but subtle enough for the day, Dreamy is shaped to provide a subtle lift at the corners for a wing that works no matter where you are headed. Long-lasting, the Dreamy stays in great shape as long as it is treated properly, allowing for up to 25 wears. 
Baby Girl- Looking for lashes that draw attention straight to the eye without overwhelming them? The wispy, fluffy Baby Girl may be a perfect choice. Not thick or heavy, Baby Girl is all about the length. 
Lovely- Perfect for everyday wear, this easy-to-style lash is lightweight and comfortable. Shorter than many other choices, topping out at 18 mm, creates a natural look, only better. 
Bossy- Just like the name implies, Bossy gives you a dramatic look for days when you need to look and feel your best. At 25 mm at their longest point, the Bossy is sure to catch everyone's attention. 
Blossom- Shorter than some of the more dramatic options, at 22 mm, Blossom still provides plenty of lengths while doubling up on volume. These double-stacked lashes are wispy and are the perfect frame for a glamorous eye and lip combination. Treated properly, they are easily reused up to 25 times. 
Why Mink Lashes?


The 25mm mink lashes book offered by Leida provides full and gorgeous looks. 3D mink lashes are sought after more because Mink holds the curl longer than regular fake lashes on the market, so the 3D looks more beautiful on mink lashes. These lashes are more noticeable and more natural-looking. 3D mink eyelashes tend to be more glamorous and better-looking than all other lashes.

Application and removal are simple as well, use your favorite eyelash adhesive and apply it onto your eyelid and on the band of the lash; wait 5 seconds, and put on. To take off, get a q-tip, dip it in warm water, rub on the band until it becomes loose, and take-off gently.